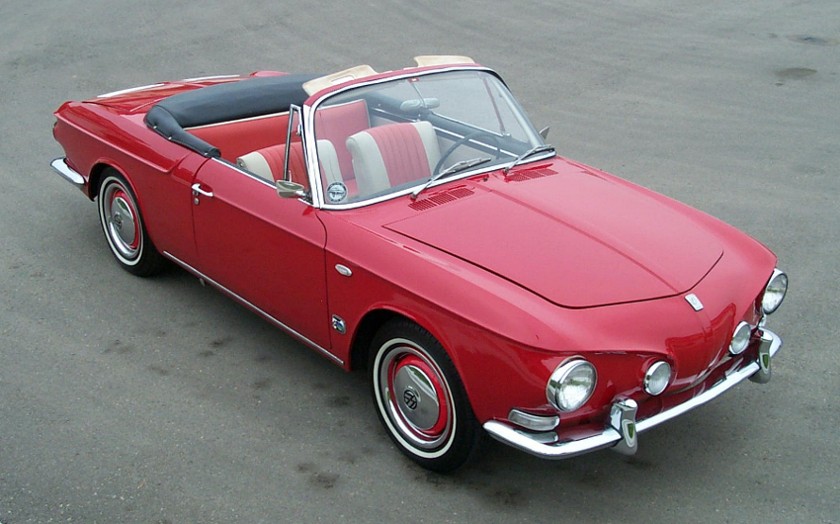 VW 1500 Club Member: Lee Hedges' 1962 Type 34 Cabriolet Replica
VIN#: 0 001 776
BACKGROUND: This T34 was found in Sylmar, California in September 1999 after sitting undriven for 28 years. It was originally found by Dirk Brogdon in 1998. Dirk was driving his T34 and the owner (Bud Hawk) stopped him and said "Hey, I've got one like that at home". In September 1999, Dirk told me about it on a Friday and I bought it on Sunday.

Scott Perry & I drove out to Sylmar, 2.5 hours north of San Diego. The T34 was on a huge 2-acre lot that was full of equipment, old cars, horses, chickens, dogs, and much more! It was parked in the middle of this huge area next to a couple 1960's Cadillac convertibles & a 1969 T14. It had all the authentic badges & scripts, had never been in an accident, and had very little rust in the wheel wells. A 1964 single carb 1500cc engine was fitted and it had not been driven since 1972!

One quick look under the rear seat revealed the VIN# to be 0 001 776 ... an extremely early-1962! Another quick check for the unique early-1962 parts confirmed everything was there ... so I paid the seller, Bud Hawk, $2000 + $500 to tow it back to San Diego. I bought his 1966 Sunroof T34 for $500 and he trailered both T34s down together.

RESTORATION: The restoration began after the T34s were delivered in early-October 1999. First task was to remove the glass then the gauges. The date-stamps on the gauges were surprisingly early (May 1961 & July 1961), well before actual production began at Karmann in September 1961. The gauges were sent to Foreign Speedo in San Diego for $200 in December and were ready by January 2000. The brake system was completely rebuilt with NOS cylinders & hoses in January. The worst rust was in both front wheel wells and in the battery area, but the rest was relatively rust-free due to sitting in the high-desert for 28 years.

In mid-February I had Batson Sheetmetal (specialists in Carson top conversions) remove the roof, add reinforcements to the inner rocker panels, and reform the windshield frame. They also designed a metal removable top (which I have not used). They cut out the rusty areas and welded-in new metal sections in the old-school tradition. Total cost = $700 for the metalwork and $800 for the removable top =$1500.

From March through June I stripped the four layers of old paint down to bare metal on every inch of the body. I worked the body every day to smooth the dings, and prepped it for paint with four coats of etching primer. It had never been hit and the rust repairs were done well. I then handed it off to a local body & paint shop for the final detailing & paint with L456 Ruby Red. Total cost = $1200.

The T34 was painted by mid-June and the parts flew on quickly after it returned home. I'd found a lot of NOS parts from eBay and hoped my trip to Germany for the KG Classic in July would produce some great parts. And it did: lower dash pad, RHD side mirror & vent frame (from Clive Richardson), and a ton of little goodies. Lars Neuffer supplied the Blaupunkt radio, headlights, and NOS front nose emblem seal.

I found 5 NOS early T3 rims from Mark Smith in Oregon and had them powder coated. Chrome plating was done by Bill & Steve's. Engine was rebuilt stock by VW Paradise in San Marcos. Interior was designed by Jose Rodriguez in Oceanside based on the T34 Cabriolet sales brochure. Tires are BF Goodrich 5.60R15 thin whitewalls from Coker Tire, Steering wheel is from Koch's. The majority of seals came from Bill & Steve's and Lars Neuffer. The majority of the accessories were found on eBay & eBay-Germany. All the lenses came from Bill & Steve's.

Front & rear hood seals took a bit of time to get right, needing to trim the long edge of the T3 hood seal to fit the T34 drain channel. The restoration was completed in October 2000 when it was first photographed for Let's Play VWs magazine in Japan. The first event was Bill & Steve's Fall BBQ.